Incineration in doubt as Covanta UK seeks buyer
We are reproducing this story here in full as it originally appeared on the Resource Recycling website. Of particular note is the final analysis on overcapacity which now reaffirms what CHAIN have been saying for a considerable time, that the headlong rush for incineration has been more to do with the economics of the situation and less to do with the need. The proposed Northwich incinerator is not immune to this and TATA/EON will need to secure a reliable source of waste to burn to make the plant effective. We have long asked, and will continue to ask, where is this waste supposed to be coming from?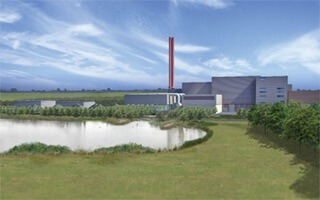 Artist's impression of Covanta's Rookery incinerator in Bedfordshire
The UK arm of energy-from-waste (EfW) firm Covanta Energy, has announced that it must secure a buyer or partner to take over its operations or face making the 'majority' of its staff redundant.
According to the company, the decision was triggered following the company's unsuccessful attempt to be selected as the preferred bidder for the Merseyside Recycling and Waste Authority's (MRWA) 30-year waste contract, reportedly worth £1.18 billion. MRWA announced last month that SITA UK's waste incinerator was the preferred option.
The sale offer would encompass assets including the forthcoming EfW facilities at Rookery in Bedfordshire (capable of processing up to 585,000 tonnes per annum (tpa)), Ince in Cheshire (850,000 tpa) and Green Hills near Airdrie Scotland (300,000tpa), as well as a leasehold interest in a site in Middlewich. Covanta has expressed its hopes that these projects will 'move to the construction phase, with the support of buyers or partners'.
Other assets include municipal waste procurements in 'various stages' and an existing residual waste treatment contract with the Royal Borough of Windsor and Maidenhead.
The company has said that it is currently consulting the 30-strong staff at Halesowen, West Midlands, about the potential take-over and warning them that unless a buyer or partner is found, the 'majority' of them could face redundancy.
The UK's founding Managing Director, Malcolm Chilton has left the company and has been replaced by the Director of Legal and Corporate Affairs, Fiona Penhallurick. She is currently looking to appoint a 'suitably qualified firm' to handle the search.
Covanta will continue to operate from its existing offices while a buyer or partner is being sought.
Overcapacity
The news comes amidst growing concern about residual waste treatment overcapacity in the UK, specifically of the mass-burn variety practiced by Covanta.  In June, Defra withdrew £217.1 million of PFI funding for three incinerators, including the Merseyside Waste and Recycling Authority's project, saying: "We now expect to have sufficient infrastructure in England to enable the UK to meet the EU target of reducing waste sent to landfill."
Further, a 2012 report by waste management consultancy Eunomia claimed the UK could see 'overcapacity of 6.9 million tonnes per annum' by 2015/16, while the Global Alliance for Incinerator Alternatives (GAIA) has warned that some EU states, including the UK, have the capacity to burn 'more than the non-recyclable waste generated'