Public Message to members of the new Cheshire West and Chester Council.
8 June 2015
Dear Councillors
This message is a reminder to members of CWAC Council, particularly those recently elected for the first time, that the prospect of having a large waste incinerator constructed and operating at the edge of Northwich Town Centre in Lostock is a frightening dark cloud that still hangs over the local community.
Our purpose at this stage is not to provide a detailed briefing other than to point out that if construction goes ahead, it will be unprecedented for such a large incinerator to be located in the middle of a residential area and close to so many schools and nurseries. It is a fact that more than 1000 children attend school less than half a mile from the site. However, even at this stage, you have the opportunity to play a vital role in preventing this potential disaster.
We understand that TATA and Council officers have been talking to each other about significant changes to the plant for which planning permission was granted by the Government in 2012. We say 'understand' because openness, transparency and respect for the right of the community to know what is going on does not evidently apply in this case. From what we do know, CWAC Council has every right to demand a new planning application because of the scale and nature of the changes TATA wants to make and it should exercise that right in the interests of Northwich particularly in view of the developments that have taken place in technology and the energy market, the downsizing of TATA's plant and progress on the regeneration of the town since the original application five years ago. At the very least, democracy dictates that the local community must be provided with full information and the public consulted by the Council before any decision is taken and all decisions should be in the hands of elected councillors because of their potential importance to peoples' lives.
One of the bizarre and unacceptable aspects of the project is the complete absence of a meaningful representation of what the incinerator plant would look like and particularly how the scale relates to buildings, people and, for example, vehicles in the nearby locality. One can understand the motives for TATA for wanting to keep their dirty and hazardous secret but that does not excuse CWAC Council for not stepping in and taking responsibility to inform the public.
We are therefore providing the photo below to help you understand the scale of the monster that would be located behind Tesco on Manchester Road. It shows the recently completed Viridor incinerator in Cardiff that has a capacity of 350,000 tonnes p/a. By contrast, the approved capacity for the Lostock plant is 600,000 tonnes p/a which would be 71% bigger! If you look closely you will just about see the relative size of the vehicles in the front of the building. Alternatively, you could visit the Ineos waste burning monster in Runcorn and then imagine something like that looming over thousands of homes as well as shops, schools and playgrounds in the neighbourhoods of Lostock, Rudheath, Wincham and Northwich Town itself. Is it any wonder TATA wants to keep it a secret?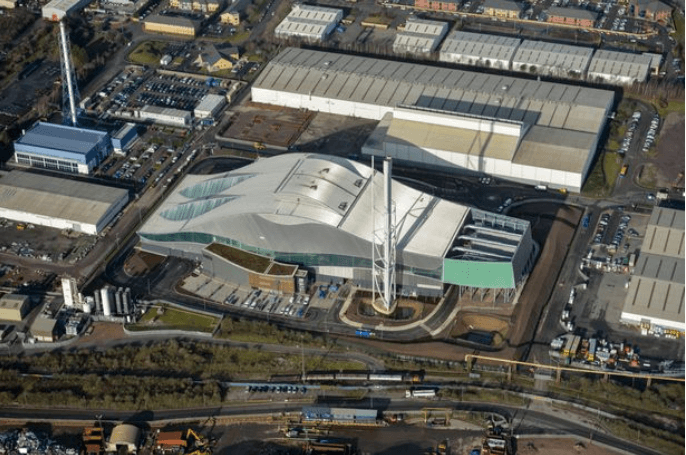 CHAIN has been campaigning to protect Cheshire from the health and environmental perils caused by waste burning incinerators for the past eleven years and will continue its fight. We collected more than 25,000 signatures on our petition against incinerators in Cheshire, a record number in the county. We hope that you will give your full support to the people of Northwich, particularly the children whose health will be most at risk, in their uneven struggle against one of the largest business corporations in the world and insist on a new planning application.
What are TATA/EON up to now???
It may seem that everything has gone quiet over the past few months however as the old saying goes, there is generally a calm before the storm.
Behind the scenes it seems that our old friends at TATA/EON have been busy. Faced with the realisation that they simply cannot find enough waste to fill a 600,000 tonne incinerator it appears that they have been secretly lobbying CWAC to try and get a variation on the planning permission to build a 300,000 tonne incinerator instead.
Quite apart from the fact that they simply cannot do this; the conditions of the initial planning permission make this clear, it also misses the point that it is no longer for energy needs. In fact with Winnington scaling back, and they insisted that it was needed to power the Winnington site, why do they still need an incinerator?
The answer is they don't. Read the details here and the speech made to CWAC Council by Hilary Cartwright on behalf of CHAIN here.
This fight is far from over…..
CHAIN update – July 2014
Since the granting of the Planning Permission in 2012 nothing of a significant nature regarding the TATA/EON Northwich waste incinerator project has occurred that we felt necessary to bring to your attention until recently and that development is described in the attached file. CHAIN is still very much alive as an organisation and continues to monitor the situation and lobby various bodies and individuals to further the aims of our campaign.
To read our latest update click here.
Lies, Damn Lies and Planning Applications
Here's another example where one thing is said at planning applications and something different happens in the real world that the rest of us inhabit.
Our friends at HAGATI in Runcorn fought long and hard to try and prevent the building of the Viridor EfW plant at Weston Point in Runcorn, but as it approaches the point of 'go live' the owners did what we forecast all along, yet what was dismissed as 'speculation' at the planning stage.
The original planning application was clear; deliveries of waste to the plant were to be limited to just 85,000 tonnes a year, some 10% of the total 850,000 tonnes this plant is set to burn every year. The biggest incinerator in Europe was built on a lie that they would bring in the majority of waste by rail. This article on Air Quality News gives the detail we all knew was coming; the original ruling has now been overturned to allow HGV's to deliver almost 500,000 tonnes a year into the plant.
Sustainable transport? No. Local waste burned in a local facility? No. This monster is set to burn waste from across the UK and Europe and the bulk of it will be coming down a road near you.
This tactic is not unexpected and often used by operators. Get the planning permission, build the plant and then complain that this 'restriction' is holding them back and get it overturned on appeal.
On a completely separate and clearly unrelated note the team trying to build an incinerator in Northwich are STILL insisting that they will be able to bring in the majority of waste by rail. This despite the fact that they don't have a single waste contract to burn at the plant yet, nor that their counterparts just up the road in Runcorn are unable to bring in the majority of their waste by rail.
Can this be true? Can they really succeed where their counterparts have failed so publicly and miserably? We'll let you make up your own minds.
The fight goes on
Despite the recent setback with the EA granting a permit to TATA/EON to operate their incinerator in Northwich, the fight continues apace. This week we have received great coverage in the Chester Chronicle for which we are extremely grateful. Ironically the only mention in our local Northwich paper this week is a letter from Liam pointing out that their previous story was factually incorrect – Incinerators are NOT absolutely safe despite the suggestion last week in the Guardian that this was the case.
The Chester Chronicle story has been saved and can be viewed here as part of our library.
Why does the EA ignore the original planning application?
In another bizarre twist to this sorry tale the EA are steadfastly refusing to take any notice of why Planning Permission was actually issued in the first place. They want to ignore the simple fact that the original application was referred to the Secretary of State as it was a 60Mw plant and therefore part of the National Energy Infrastructure Plan and are intent on issuing a permit for a 38Mw plant despite the fact that at this size it would never have been referred in the first place. In fact at that level it would have been refused permission as there was no justification for it.
The EA when asked to comment said "We have a duty to determine the application made to us, regardless of the planning permission granted. It is the operator's responsibility to ensure that they comply with all necessary authorisations ".
Once again Northwich is left stranded by inability and incompetence on the part of those who are supposed to know better. This is not joined up thinking and a farce of the highest order. Can anyone save us from this bureaucratic nightmare? Read our latest press release here.
Is this a con?
Very disturbing news this week in Northwich as TATA have announced 220 job losses as it partially closes down its chemical production in the town. CHAIN argued at the Public Inquiry that this was the long term plan and that the Incinerator was simply a means of them exiting chemical production.
Add to this the fact that EON have now changed the basis for development and have applied for a conventional waste burning electricity station rather than a plant supplying steam to TATA and it becomes clear that what is happening in Northwich is not what was described to us at the Public Inquiry.
This change completely undermines the basis on which planning permission was granted and therefore the Environment Agency should not be minded to grant an Environmental Permit as this is NOT the plant that was given planning permission.
To read CHAIN's reaction to this click here.
The Environment Agency gets it wrong
CHAIN have issued a press release today covering the recent announcement by the Environment Agency that they are 'minded' to grant a permit to TATA/EON to build and operate an incinerator in Northwich. As you might expect they have once again ignored perfectly reasonable requests for information and are very likely to issue an operating permit. We believe that this decision is both sort sighted and incorrect and pre judges a study currently underway to establish causal links between incinerators and still births, birth defects and congenital defects by assuming that it will find in their favour. This is entirely wrong and you can read our press release here.
CHAIN ask for help from Hull councils
CHAIN's plight has now been picked up by the Hull Daily Mail and East Yorkshire's councils who are responsible for setting up the new waste contract for the area have been asked to rule out sending it 260 miles across the country to be burned  in Cheshire. For the full story click here.
The fight to stop Yorkshire's rubbish
The CHAIN campaign opposing the construction of one of Europe's largest waste incinerators, treating 600,000 tonnes per year, in a residential area of Northwich moves on to its next phase. Plans are currently afoot for TATA/EON to try and gain the lucrative waste contract from The East Riding of Yorkshire Council and Hull City Council.
CHAIN are targeting their councillors to try and persuade them that shipping their waste to our doorstep is a bad idea. To find out more click here.
Northwich Incinerator – the fight goes on
CHAIN have announced today that despite being forced to abandon their High Court application to delay the Judicial Review due to lack of funds, the fight to prevent the Incinerator being built in Lostock will go on.
In a bizarre twist it was revealed at the High Court hearing that EON/TATA are actively pursuing waste contracts in Cheshire West, Cheshire East and East Yorkshire and the City of Hull. Campaigners have vowed to fight to prevent this and CHAIN is urgently writing to both local councils to see whether they are seriously considering signing a waste contract to feed an incinerator in Northwich.
The full press release can be found here.
Help stop incinerators across Europe
CHAIN have always been against incineration wherever it is being promoted, as it is fundamentally the wrong answer to the issue of waste disposal. We've long campaigned on the basis that this is not a NIMBY complaint, more that wherever Incinerators are planned we would oppose them. Now a campaign and petition to stop thier spread across Europe is in place supported by Avaaz and we would urge everyone to sign their petition here
January 2013 – Donate NOW to help stop the Incinerator
CHAIN is taking the fight to the High Court and of course this needs significant funds which as a group of volunteers we simply don't have. This is where you can help. We need funds to help finance the upcoming fight and anything you can spare will be used to help prevent this massive 600,000 tonne incinerator being built on Griffiths Road, Northwich.
To donate simply click on the Paypal button below and donate whatever you can afford. Every penny donated will be used by CHAIN to fight against this incinerator.
Remember that we have over 25,000 signatures on petition against this incinerator, there were over 4,000 separate objections to it during the consultation and it was fought by local residents all the way to Public Inquiry. CHAIN has legal opinion which states that  'CHAIN has strong grounds and should win' a legal challenge on a number of grounds' which is why we are pursuing this. The choice is to fight now or be chained to an incinerator for the next 30 years.
December 2012 – Last chance to save Northwich
Following confirmation that funding would be available, CHAIN and fellow Northwich campaign group, SID, requested an expert opinion on the feasibility of a legal challenge to the decision by the Government to allow the TATA/E-ON Northwich waste incinerator. Accordingly, Mr Anthony Crean, the eminent QC who represented Cheshire East Council in their successful action to prevent a waste incinerator in Middlewich, was instructed.
We have now received Mr Crean's advice and, according to our solicitor, he believes that 'CHAIN has strong grounds and should win' a legal challenge on a number of grounds about which he provided details.
Read the full details in the latest CHAIN press release here
CHAIN take CWAC to task over traffic
November 2012 – CHAIN have written to Steve Robinson, the Chief Executive of CWAC to ask him why the Council neglected to object to the planning application on the grounds of traffic. There is a strong case to be made that the additional traffic on the roads wil cause significant disruption around the Morrisons Roundabout and this is very likely to have an impact on those who work in Gadbrook Park.
You can read a copy of the letter we have written here. We await a response from the Council on this matter.
There's still time to make a difference…
A great many people have contacted CHAIN asking what they can now practically do to try and stop the incinerator going ahead. The answer is that there are still a number of practical things you can do and here are two of them:
1. Fill in the online petition – Click HERE to go to an e-petition on the Governments' own website and add your voice to the growing disquiet that this is a really bad decision made by Ed Davey.
2. There is still time to influence CWAC, who are the one body with the resources to stop this proposal. The Chief Executive Mike Jones and Lynn Riley, who is portfolio holder for waste, would we are sure, be delighted to hear your views on the matter. In order to appeal against the decision CWAC have until the 13th November 2012 to appeal using the Town and Country Planning Act, or until 2nd January if they feel they can use a different route and ask for a Judicial review. CHAIN believes that the best chance lies with an appeal under the TCPA and would therefore encourage everyone to write as soon as possible to these key stakeholders at CWAC.
You could email them using mike.jones@cheshirewestandchester.gov.uk and lynn.riley@cheshirewestandchester.gov.uk as this is an urgent matter. We would love to know what the council are planning to do on behalf of its residents and Council Tax payers to prevent this abomination being built.
CHAIN Press Release – 5th October 2012
Northwich Betrayed
The announcement that the Government has granted planning permission for TATA/EON to build and operate a huge waste incinerator in Lostock at the edge of Northwich Town Centre has been met by fear and dismay by local residents. CHAIN has been contacted by many who are bitter that the interests of two foreign business corporations have been put before the risks to the health and quality of life of the local community and the threat to the town itself. Above all, they are in disbelief that the outright opposition of residents, local councils and Cheshire West and Chester Council has been ignored and they want something done about it before it is too late.
Brian Cartwright, Chairman of CHAIN, commented:- " This news is devastating for those who live in Northwich and the surrounding area particularly because the Government has clearly not listened to the people who are united in their opposition to the incinerator proposal. It exposes the doctrine of 'localism' as a cynical confidence trick that will not be forgotten. CHAIN has examined the planning inspector's report and decision letter from the Department of Energy and Climate Change and it is very obvious that the cogent arguments we and others put forward have largely been ignored and the claims of TATA/EON, who are only interested in the financial return, taken at face value. People are particularly incensed that the Government has not shown consistency in how it has treated Middlewich, where it recently turned down a planning application for a waste incinerator and yet it sees fit to allow one in Northwich just five miles away. In my view, the fact that the case put forward by CHAIN on behalf of the community in the Middlewich inquiry did get a serious hearing played a significant part in the outcome. The Government should also be aware that it has caused significant damage to the project to regenerate Northwich just as it is gaining momentum. Does anybody seriously believe that its prospects will not be badly affected by two chimneys, 90 metres tall, spreading dangerous emissions and an ugly building the size of a large football stadium looming over the town? There is still time for the Government to come to its senses and prevent what would be a catastrophe. CHAIN and the other parties involved, including the Council, have three months to lodge a legal challenge. We will be making a further announcement in due course. In the meantime, I urge all who are opposed to this attempted assault on our town not to give up. The people of Northwich deserve better than this. "
NORTHWICH INCINERATOR GRANTED PLANNING PERMISSION
On 2nd October 2012 the Secretary of State for Energy and Climate change has issued a letter granting planning permission for TATA/EON to build a 60MW EfW incinerator in Northwich.
Despite 25,000 signatures and over 3,000 individual written submissions against this application, as well as rejection by every local. Borough and CWAC Council,  he has seen fit to grant the application.
You can read the full decision letter here. CHAIN will be issuing a response shortly
No Incinerator in Middlewich!!!
July 2012 – Victory for the people of Middlewich as the Secretary of State turns down the planning appeal and agrees that Middlewich does not need an incinerator.
Supporters all over Cheshire are celebrating the news that the Secretary of State Eric Pickles has turned down the appeal by Covanta over the refusal to grant planning permission for an incinerator on the land off Pochin Way and Cledford Lane.
The news came in a letter dated 20th July 2012 which confirmed that there were no grounds for appeal by Covanta against the original decision and that there was no requirement for an incinerator in the town.
In perhaps the most telling part of the letter, the decision as issued by the Secretary of State says  "The Secretary of State also considers that the proposal would conflict with the policy aims of Annex E of PPS10 in terms of visual intrusion, nature conservation, traffic and access, and air emissions (as they apply to traffic); as well as concluding that the economic benefits of the appeal proposals have been overstated."
This is welcome news for not only residents of Middlewich but also supporters in Northwich who are still fighting to prevent an incinerator in their town. The factors cited by the Secretary of State in his conclusion are factors which both the Middlewich and Northwich proposals have in common and CHAIN will be aiming to ensure that the precedent set by this ruling is carried forward to the Northwich decision, which is also due in the very near future.
Covanta still have the right of further appeal however having been told NO by local residents, the town council, the county council, the Inquiry inspector and now the Secretary of State, to pursue this any further would surely be pointless.
This is very clearly a victory for the people of Middlewich and a triumph of common sense over corporate greed.
Welcome to CHAIN
There are currently proposals from several commercial organisations to build incinerators for burning waste in Cheshire. CHAIN is a group of volunteers who are committed to preventing these plans from going ahead as we believe they will have dire environmental and economic consequences as well as posing considerable health risks to residents in Cheshire.
We owe it to future generations to object to these plans and fight for a better environment.
Northwich Public Inquiry Closed Nov 2011 - Read the Chairman's Closing Speech
If you would like to read CHAIN's closing statement on behalf of the people of Northwich then simply click here.
CHAIN have made it clear throughout this process that were it not for the overwhelming support of the people of Northwich and the surrounding areas then the fight would have been over long ago. The resilience shown by everyone, particularly anyone who took time out to come to the Inquiry and those who spoke in defence of the town, has been heartwarming.
The final decision now lies with the Inspector and ultimately the Secretary of State. All we can do is hope that the case put by the volunteers of CHAIN and the local residents who took so much of their own time to raise this defence, counts for something against the extraordinarily well paid QC's and Barristers and all the legal team wheeled out by TATA/EON.
CHAIN now awaits the outcome of both the Middlewich and the Northwich Public Inquiries and will post any news here as it arises.
Thank you to everyone for all your time, effort and support.