A Christmas message to all CHAIN supporters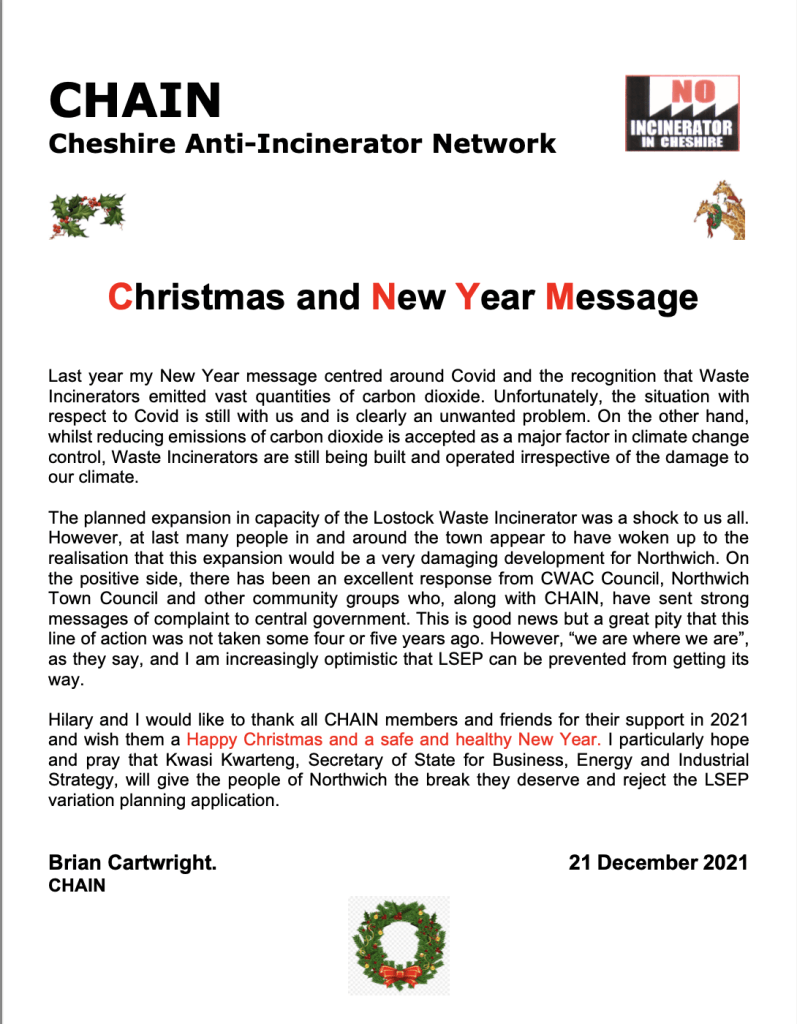 Last year my New Year message centred around Covid and the recognition that Waste Incinerators emitted vast quantities of carbon dioxide. Unfortunately, the situation with respect to Covid is still with us and is clearly an unwanted problem. On the other hand, whilst reducing emissions of carbon dioxide is accepted as a major factor in climate change control, Waste Incinerators are still being built and operated irrespective of the damage to our climate.
The planned expansion in capacity of the Lostock Waste Incinerator was a shock to us all. However, at last many people in and around the town appear to have woken up to the realisation that this expansion would be a very damaging development for Northwich. On the positive side, there has been an excellent response from CWAC Council, Northwich Town Council and other community groups who, along with CHAIN, have sent strong messages of complaint to central government. This is good news but a great pity that this line of action was not taken some four or five years ago. However, "we are where we are", as they say, and I am increasingly optimistic that LSEP can be prevented from getting its way.
Hilary and I would like to thank all CHAIN members and friends for their support in 2021 and wish them a Happy Christmas and a safe and healthy New Year. I particularly hope and pray that Kwasi Kwarteng, Secretary of State for Business, Energy and Industrial Strategy, will give the people of Northwich the break they deserve and reject the LSEP variation planning application. 
Brian Cartwright
CHAIN
21st December 2021