TATA Northwich Waste Incinerator – The Nightmare To Go On
Campaign Update – 2 October 2017
On 2 October 2012, TATA and E-ON Energy from Waste Limited were granted planning permission to build a waste burning power station in Lostock that would burn 600,000 tonnes of waste per annum. That permit had a time limit of 5 years and was due to expire today if the development had not commenced. The tragic news for Northwich is that TATA has met that requirement and, according to our sources, has every intention of building the incinerator at some time in the future. There are many who thought the threat had passed because TATA has been silent on the matter and no building activity has been seen. However we recently visited the site and have photos of demolition work on the old power station underway.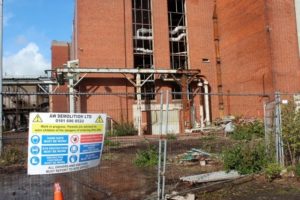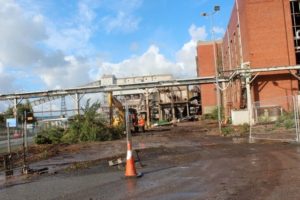 All of this would not be possible without the understanding and cooperation given to TATA by our very own Cheshire West and Chester Council. You will recall that a few months ago CHAIN called on the council to demand that TATA submit a new planning application because of the significant changes to the original that it wanted to implement. CWAC Council definitely had the authority, granted by the Secretary of State for Energy and Climate Control, to take this action that might have killed the incinerator once and for all but it did nothing. Not for the first time, the people of Northwich were let down by their elected councillors and council officials.
TATA and DONG
Apparently there are still some people out there who confuse the TATA Waste incinerator with the DONG waste processing plant. The fact is that they are totally separate operations. This means that the combined amount of garbage transported into Lostock/Rudheath, a residential area with many schools and nurseries, would be 740,000 tonnes per annum. This would mean 400 additional large diesel HGVs on King Street every single weekday 52 weeks a year. (Northwich generates 9,000 tonnes of waste per annum)
Runcorn
Brian Cartwright and I visited Runcorn recently at the invitation of local residents who live in the area close to the Viridor incinerator. It was a memorable and frightening experience. People described to us the noise, smell and pollution that they still endure two years after the start of the plant, showed us the steel railings around the site which are already corroding because contamination by bottom ash and the properties which house owners find it impossible to sell after reducing prices by up to 30%. It did not come as a surprise, therefore, to discover that the residents are contemplating legal action in order to defend their sanity and right to live a normal life.
Hope
TATA will only proceed to full construction of its Northwich monster burner if it can justify the £350million investment and it is confident that it can obtain contracts from local authorities and others who have garbage that they are willing to pay to have incinerated. In their planning application submitted in 2010 they boasted that there were plenty of potential customers in the UK who wanted to do business with them and that the incinerator would be operating in 2016. The good news, as we know, is that they got it wrong and, in fact, there is now excess capacity in the waste incineration sector. That will make it more difficult for TATA to justify future investment but we must all assume that they will not stop trying and the threat overhanging Northwich will continue.
The Future
CHAIN will continue to monitor the situation to the best of our ability and within our limited resources as it has done for the past ten years but local people who care are going to have to get more involved. We know that TATA and its hired representatives have a cosy relationship with the council and that there is no serious attempt by any of the parties involved, TATA, council officers or elected councillors, to keep local people informed let alone to give them a say on what is going on. It is obvious, as it has been since 2010, that their legitimate worries about their own and their loved ones' health and quality of their lives just do not matter.
Thanks
As ever, CHAIN appreciates the assistance that we continue to have from our many supporters.